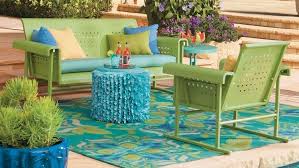 An outdoor rug can create a vibrant and bold setting for your garden, giving the perfect finishing touch for your garden design. It can be tricky to find the right outdoor rug for your garden in Coventry, since they come in all different shapes, sizes and textures. It is important to find the perfect rug that is both practical yet appealing. This is why we have provided a great guide to help you invest in a worthwhile outdoor rug for your garden, without having to worry whether or not you have bought something of value.
Tip 1: Choose The Right Size
It is important to choose a rug that fits the areas you wish to cover, otherwise having too big or too small rugs can look odd and out of place. A small rug acts as a great floor decoration, making it appropriate for doorsteps, and is great for filling extra spaces that look out of place. A large rug can be used for larger areas, such as patios or decks.
Tip 2: Consider The Comfort
It is important to consider the comfort of the rug, with many homeowners enjoying to step barefoot on their outdoor rugs. A soft rug is always more welcoming for when you have family and friends over when they visit your house in Coventry. It is important to avoid hard and itchy material rugs, when you can purchase a softer rug for the same price.
Tip 3: Choose The Right Pattern and Style
You will find that today, you can purchase many outdoor rugs that come in different colors and patterns to compliment your garden in Coventry. You can purchase floral, strips, plain, shapes and many more designs to suit your garden style.
Tip 4: Choose a Good Material
There are two types rug materials, including natural and synthetic. A natural rug is appropriate for those who suffer from allergies, which can be found from bamboo and sisal. Whereas, a synthetic rug is found to be less expensive, has quick drying features and comes in greater vibrant colors. Examples of synthetic materials can be found in nylon, olefin, acrylic and polypropylene.
Tip 5: Consider The Color
More vibrant, bolder colors are great when they are contrasted against neutral-colored furniture. It is important to make sure that the color of your outdoor rug is not similar to your patio or deck, because it is unlikely for your rug to stand out.