WHY CHOOSE US?
Freshly Cut Turf Daily
Next Day Delivery*
Never Beaten on Price
Free Personal Advice
* Order before 9:30am. Subject to Availability. Terms apply.
We also supply great value Topsoil...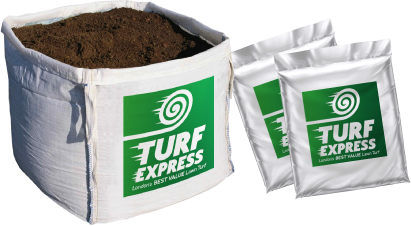 London's Best Value Lawn Turf from Turf Express
Welcome to Turf Express, where we specialise in supplying the finest quality turf at the most competitive prices. In fact, we are suppliers of London's best value lawn turf, so when you are looking to enhance your outside space with the addition of some top quality turf, you won't have to spend a fortune to achieve a first class finish.

We offer next day deliveries* throughout London and the South East on all orders, so you won't have to wait too long to get the turf you need to landscape your garden or grounds. We understand that quality is a big priority, which is why we cut fresh turf daily to guarantee it will be in top condition. Here are a few of the benefits of choosing Turf Express when you are looking for the best turf at the best price.

Next day delivery of quality turf and topsoil throughout the South East.
Turf cut daily so will always arrive in the best possible condition.
Convenient collection points around the Home Counties.
Lowest possible prices on all products.
Any questions answered at the end of the phone.
Simple step on-line ordering or talk to a representative.

The Right Turf for the Job

We pride ourselves on our highly competitive turf, which is designed to save you money on any landscaping project.

Shop online now to find the right turf for the job, and remember that you can always contact our expert team to take advantage of our honest and impartial advice if you are unsure which product to choose.