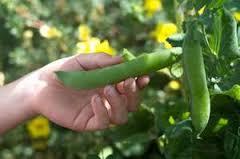 Growing vegetables in your garden is not only less expensive, but it is also very eco-friendly, convenient and tastier. There is nothing better than knowing how your food is being produced and maintained. It can be quite difficult to differentiate which vegetables are cheaper to grow during the spring season. This is why we have provided a quick and useful guide on the different types of vegetables that you can grow over spring, which is easy and cheap to carry out.
Before you get started with your crops, make sure to use plastic to warm the soil and apply a nitrogen rich fertiliser to support the growth during the spring season.
1. Spinach
Growing baby fresh spinach during the springtime is great, since it is fast growing. Make sure to grow them close to each other to help create more warmth in the soil. There are different types of spinach leaves that you can grow, including smooth-leaf and crinkled crisp leaves. It is best to grow both of these types, that way you can identify which works well for your soil and location.
2. Radishes
Radishes are easy to pull out from the ground, and are known to be one of the fastest growing vegetables in the garden, where it will only take around 3 weeks to harvest. Radishes are great alongside lettuce or other green spring vegetables and can help naturally make these vegetables perfectly thin as the radish grows beside it.
3. Peas
Depending on the type of pod peas you are planting, it will usually take 50-60 days to grow. The best way to harvest your pod peas is to start from the bottom of the plant and work your way upward. Make sure to not pull the plant after its grown, since the roots will contain bacteria. The best way to remove your plant is to cut off the stems from the ground, that way the bacteria can decay.
4. Chard
Chard is another great vegetable to grow during the spring, which can be eaten either raw or cooked. Chard comes in a variety of sizes and textures that are great for salads.
5. Carrots
Carrots are a great vegetable to grow during the spring season, where they are more resistant to pests and diseases. Carrots tend to mature around 2 and half months. After they have harvested, chop the top off, rub off any dirt with cold water and let them dry before emptying them out into an airtight zip lock bag and refrigerate.