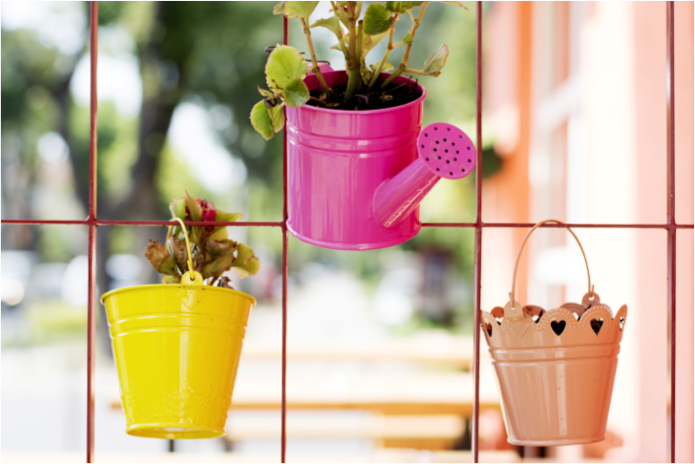 Decorating your garden is a beautiful experience for any gardener, however it can become very expensive when considering all the total costs involved. As shown below, there is a list of many wonderful and cheap decorative alternatives that can be manifested to create a magnificent appearance for your own personal garden.
Buy Big
It is much cheaper to buy in big bulk, because it can efficiency utilize more space and can save you greater expenses in the long run. For example, rather than spending money on small plant pots choose to buy only a few big planter pots instead. Furthermore, you could also use containers, glass bottles, mugs, wellies, drawers, and wheelbarrow to create your very own plant pots, whether it is taken from your home or a charity shop.
Vertical Garden
If your garden is small or lacking space, then it is a clever idea to decorate on a vertical level rather than horizontal. In addition, you can feel free to use a trellis, recycled cans to paint them, and zip ties to create a fantastic wall.
Shop For Bargains
It is always best to buy in bulk, and this is where YouGarden.com is explained. This website offers frequent vouchers and a sales section to buy a wide variety of flowers and bulbs. However, if you do not prefer buying online, then going to independent garden centres is just as good to find great bargains, where employees can also offer great professional advice.
Cinder Block
These types of blocks are cheap and can be positioned on any corner of your garden or against a wall. You can position the blocks in different angles to create your very own unique style. It can also be filled with accessories, such as plants, animals and illustrated word sculptures, and stones.
Wind Chime
You can create homemade wind chimes by using beer bottle lids, small metallic cutlery or metallic cans. Feel free to decorative them with paint, sequences, fabric and many more creative styles. If you'd like more tips on how to keep your garden looking its best, then give us a call on
0330 2000 777
.