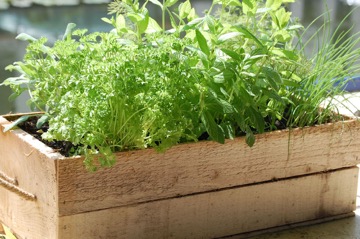 What could be more perfect than starting the New Year with a healthy eating regime? You can create a wonderful herb garden all year round, eating different herbs for different harvest periods throughout the year. Whether your garden is big or small, you can still make space for the perfect herb garden. Here is your ultimate beginners guide to creating an extraordinary herb garden in containers that will be full of life, colour and flavour, as well as being environmentally friendly and cost effective.
Choose The Right Sunlight
It is important to ensure that your herb plants are receiving the right amount of sunlight. Make sure to face your containers where there is going to be south-facing light, which happens when the sun rises in the early morning.
Choose The Right Containers
The great element about using containers, is that you do not need an expensive heavy material since the material does not matter. The key factor in growing the perfect herbs is all to do with the size of your container, and so the bigger the container, the better. This is because there is more room for soil to be spread across, therefore allowing more water and nutrients to occur.
Maintain Your Soil
In order to grow healthy fresh herbs, your soil must be maintained properly. The best way to do this is to choose the best organic soil and mix it with a good soil fertiliser. Make sure to follow the instructions on how much fertiliser to add in, since over-fertilising and under-fertilising can negatively affect the growing process.
Water Your Plants Correctly
Make sure to water your plants at soil level, rather than pouring water on top. This is because the leaves should stay fairly dry, otherwise mould can form.
Which Herbs To Grow First
Basil is a great and easy crop to start growing, and can handle less sun exposure. Chives are also a very easy crop to grow that only requires 4-5 hours of sun exposure. Thyme, rosemary and bay herbs are excellent to grow, however it is important to ensure that the soul is not over-watered.