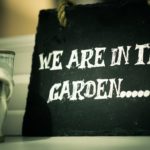 We recently discussed ways to care for your lawn this autumn, as it's a great time to get your garden in good shape for next spring. However, a garden shouldn't be all about work! Turf Express has also put together a list of autumn garden accessories to make sure you can keep enjoying your garden, regardless of the chillier weather.
Outdoor
By investing in some affordable solar powered outdoor lights, you can illuminate your outdoor space without any worries about them getting a little wet. As the evenings get darker, you can ensure a cosy glow around your lawn and indulge in late nights outside - with some warm blankets!
Water Butt
Collecting and reusing rain water is a wonderful way to help the environment, and we certainly get enough rain! By adding a water butt to your garden, you save yourself water costs in the long run whilst also making the most of what the English autumn weather is throwing at you and your plants.
Outdoor Heater
You don't need to spend large amounts on a fancy outdoor fire pit. Keep you and your guests warm with an affordable patio heater. Retailers such as Amazon and Tesco have a variety of options that won't break the bank, and will give you much more freedom to stay out later in the evenings.
Patio Cover
Now that your patio is heated, you'll want to be able to cover yourself from any rain that does begin to fall. In our post about cheap and easy garden projects, we discussed making an easy covering using a shower curtain! A perfect addition to your autumn garden accessories, a waterproof cover can also be drawn back when that sun does decide to peek through.
Garden Furniture Cover
Many people are tempted to pack their garden furniture away for the colder seasons, but after collecting all of the above autumn garden accessories, there's no need to! With a heater and a patio cover, you can use your garden seating to fully enjoy your outdoors. However, when not in use, you'll want to cover them over with garden furniture covers, just to help them withstand any particularly nasty weather days.
Turf Express believe that gardens can be used all year round, no matter the weather. For other handy tips, projects, and buying guides, take a browse of our other articles or give us a call on 01959 897 605.