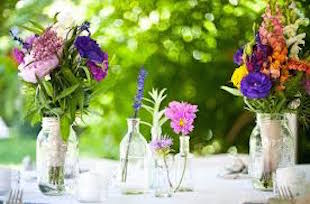 An outdoor garden can provide the perfect setting for your wedding day in Northampton. It creates an outstanding romantic and beautiful atmosphere for the bride and groom, as well as guests. The natural scenery and landscape already acts as an advantage, where it acts as the core decoration feature. Why not take a look at our guide to creating the perfect wedding in your garden in Northampton this summer.
1. Add Decorations
Before adding any decorations to your summer wedding, make sure to mow and rake your lawn, and that flowers have blossomed at the right time. We have provided a list of wedding décor ideas that you can use in your Northampton garden below:
• Floating candles in a pond or water pots • String lighting or lanterns across the garden • Mason jars filled with tea lights across patios • Sheets of fabric materials attached from one end to another • Mini jars filled with flowers and a welcoming card • Petals along the entrance
2. Provide Drinks
Alcohol is a great drink to have on your wedding day in the garden, however with the hot weather, it may not be the best option for people that wish to have something more hydrating. Offering soft citrus drinks and punches, alongside is the perfect way to have the best of both worlds. Remember to decorate jugs and glasses according to your garden wedding theme in Northampton.
3. Provide Sunscreen
Many of your guests are going to be spending hours in the sun, and therefore it is important to make sure they are protected. Make sure to provide a bottle of sunscreen spray on all tables.
4. Provide Shade
Make sure to purchase big, durable and strong umbrellas that will help to keep everyone cool from the boiling hot sun.
5. Provide Comfy Chairs
Make sure to attach fabric cushions on your metal chairs, since the metal can get quite hot during the summer days.
6. Add Drapes and Chandeliers
Attach long drapes to create a marquee setting, with chandeliers alongside it. This will help create a fuller looking garden and it will also act as a great shade protector for your guests.