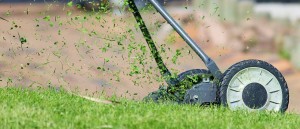 With the weather certainly warmer, we're all out in our garden lots more. This means that your lawn mowing may not be getting neglected quite as much as it does in winter! Lots of people simply bag up their grass clippings and dispose of them. However, have you ever considered using them in your garden? Turf Express has! Grass is full of nutrients, and even the clippings can be used to help your garden thrive.
Add Grass Clippings to Your Compost
Compost is made up of both green and brown matter. You need to add lots of dried leaves and twigs, but also green elements such as your grass clippings. Add your clippings to your compost heap and make sure to turn it in for aeration. If you find that you've already got plenty of green matter in your compost, that's no problem! Simply leave your clippings out to dry for a few days and they'll turn brown which can be added as brown matter instead.
Simply Leave the Clippings on Your Lawn
This may seem too good to be true - but honestly, simply leaving your clippings where they lie is really good for your lawn! They still hold nutrients, and this will seep back into your soil. They are good food for worms, too. However, make sure your clippings aren't very long and also aren't wet, otherwise, you risk blocking the sunlight from reaching the healthy fresh grass underneath.
Soak Them for Water for Your Plants
How about some grass tea? If you soak your grass clippings in a bucket of water, all of their wonderful nutrients and chemicals will soak out into the water, creating a great source of nutrients for your other plants. Fill a watering can with the soaked water and sprinkle over your flowerbeds for a refreshing grass tea - yum!
For more tips and tricks for caring for your garden lawn, take a browse of our blog posts where you'll find lots of advice. If your lawn simply seems beyond repair, speak to Turf Express about getting a beautiful new lawn for your garden by calling us on 01959 897 605.